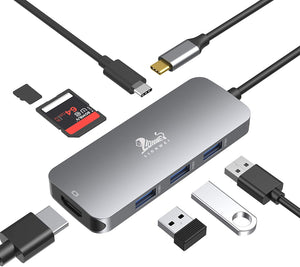 USB C to 4K HDMI Adapter: Offering 4K resolutions up to 3840x2160 at 60Hz.Backward compatibility with 4K@30Hz, 1080P, 1080I, 720P. LIONWEI USB-C to HDMI Adapter delivers a clean, vivid, seamless videos. Unlike other adapters that only support a 30Hz refresh rate, this 60Hz adapter is ideal to get the most out of your new 4K TV.

USB 3.0-5Gbps Data Transfer Speed: Access to two USB accessories at the same time, feel free to connect wire keyboard, mouse, USB flash drive, etc, with data transfer speed up to 5Gbps.

Plug and Play: For MacBook 12, MacBook Pro 2016 2017 2018 2019, New MacBook Air 2018 2019- (Not for previous generation MacBook Air & Pro), Dell, HP, Lenovo, Asus, Acer, Surface Book 2/Go, Chromebook, and more full-functional type-c devices.

Fast & Reliable Connection USB C to SD/TF Card Reader: Built-in SD/TF slots make it easy to access photos and files on your memory card with our SD card reader. Supports maximum capacity up to 512Gb cards without worrying about insufficient storage.

What you get: 1* 7-in One USB C Hub, 30-Day Money Back Guarantee and 18-Month Product Replacement Warranty Card. We will provide you professional customer service & technical support within 24-hours. Please feel free to contact us if have any issues.